SPACE WRAP-AROUND

3d Asteroids is a 3d version of the classic Asteroids game. It is not just a 2d game with nice 3d models, but a real 3d game, where you are placed in your ship in the middle of space surrounded in all directions by asteroids.
To explain Space Wrap-Around, let us go back to the original 2d game that started it all. The classic 2d asteroids game looks something like the following :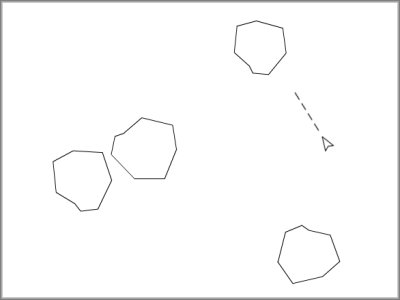 In the 2d version, when a rock goes off one edge of the screen, it re-appears on the opposite side of the screen.
3d Asteroids also has this wrap-around effect. When a rock goes too far away from your ship in space, it will appear again in the opposite part of space, as shown below :
The best way to understand it is to see it happening in the game.
Unlike the 2d version, your ship cannot go off the edge of space. The edges of space are relative to your ship's position - your ship always remains in the center of space.